Cyprus Top-Officials Attend Center's First-of-its-Kind Seminar on Antisemitism
---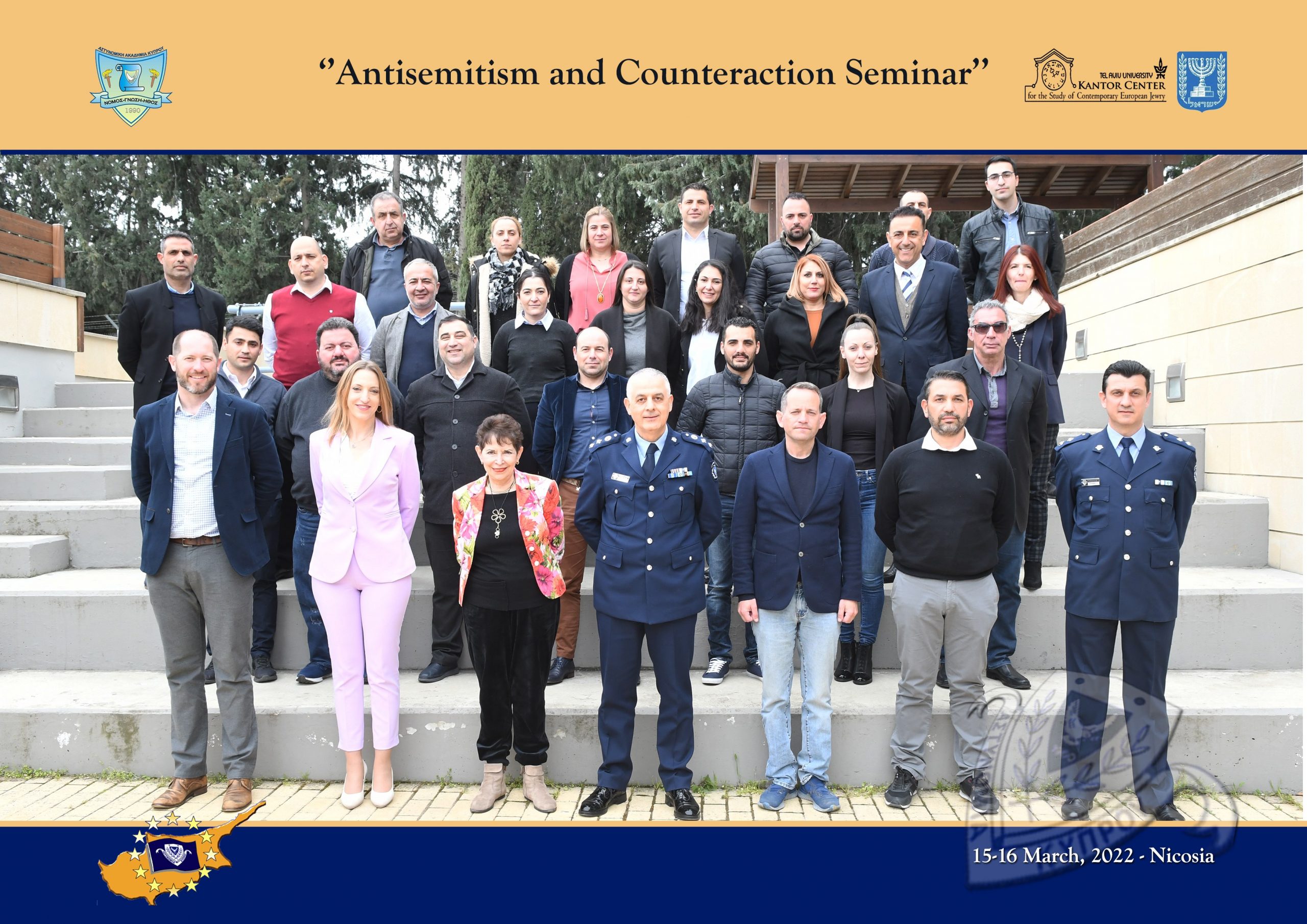 On March 15-16, our Center led a seminar and training for 25 high-ranking Cypriot law enforcers and other top Cypriot public officials in Nicosia. The seminar, which gained wide coverage in the local media, was initiated and organized by the Israeli Foreign Ministry and the Embassy of Israel in Cyprus, together with the Cypriot Ministry for Justice and Public Order.
Prof. Uriya Shavit, Head of the Center, gave lectures on the history of Zionism and the reasons for the current-day proliferation of destructive conspiracy theories. Dr. Dina Porat, Founding Head of the Center, spoke about the history of antisemitism and the legal means of fighting it. Dr. Carl Yonker, Researcher and Media Director at the Center, discussed the Dark Web and antisemitism in the American and European far-right and far-left movements.
In the opening ceremony, Cyprus Minister of Justice, Stephie Dracos, emphasized racism and discrimination must be dealt with immediately and effectively. Stylianos Papatheodorou, Cyprus Police Chief, spoke on the importance of the seminar in raising awareness about the Holocaust among members of the police and relevant ministries and institutions in Cyprus. Israel's Ambassador to Cyprus, Oren Anolik, noted that learning about the historical roots of antisemitism helps understand its manifestations today.
Prof. Shavit noted the recent public statement of the leading researches of the Center, who condemned the war crimes committed under the directives of Vladimir Putin, as well as Putin's cynical distortion of the Holocaust.
The participants in this first-of-its-kind seminar expressed their deep appreciation for the opportunity to gain knowledge and tools to help them in their jobs as frontline law enforcers. Maria Efren from the Operations Office Nicosia stated that the seminar provided her with practical knowledge on identifying antisemitism, as well as techniques and tools for investigating online antisemitism. Michalis Angelides, the Safety and Security Officer of the Cyprus Football Association, expressed how important the seminar was to him in providing practical tools to apply in his current role.
At the end of the seminar, participants were awarded a certificate of participation by Themistos Arnaoutis, Chief Superintendent Director of the Cyprus Police Academy, and Noga Caspi, Deputy Head of Mission of the Israel Embassy in Nicosia.
Prof. Shavit thanked the Cyprus Police for their exceptional hospitality and keen interest. He congratulated the Israeli embassy in Cyprus on the superb organization of the seminar, and Ruth Cohen Dar, Director of the Foreign Office Department for Combating Antisemitism and for Holocaust Remembrance, for her dedicated efforts and pioneering initiative.